Sustainable Development

Making the best use of our resources, improving the quality of life for our residents, and spurring economic growth, the
Sustainable Development Program
explores new options for growth that protects the environment while laying a foundation for prosperity.
Central SoMa Eco-District Task Force Report
- The City of San Francisco is creating an Eco-District pilot in the Central SoMa plan area to encourage innovative district-scale sustainable development projects in an important part of the City slated for major reinvestment over the coming 10-20 years.
Program Overview
The Sustainable Development program evolved from creative and collaborative partnerships that generated the recent sustainable design components of signature projects such as the Transit Center, Treasure Island, Candlestick Park/Hunters Point, and more recently, the Eco-District framework for a sustainable San Francisco.
It is a work in progress of exploration and innovation. It extends emerging trends around systems thinking and ecological planning, design, and development to San Francisco planning opportunities, thereby fostering connection, community, and sustainability in the context of climate change.
What is an Eco-District?
The Eco-District Program explores innovative research and practice worldwide, and adapts essential components of next-generation infrastructure to San Francisco. Eco-Districts are neighborhood scale public-private partnerships that strengthen the economy and reduce environmental impacts while creating a stronger sense of place and community.
The Planning Department has identified four types of Eco-Districts in San Francisco:
Type 1: The Blank Slate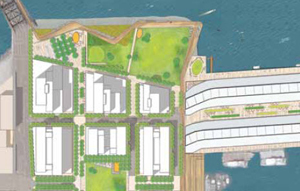 The Type 1 Eco-District is characterized by a large amount of undeveloped land typically owned by a single property owner. Type 1 Eco-Districts enable horizontal infrastructure development to be implemented in advance of vertical development to help optimize Eco-District goals. This type of Eco-District maximizes efficiencies in the delivery of goods provided by infrastructure through district-scale systems.
Type 2: The Patchwork Quilt
The Type 2 Eco-District is characterized by its mix of land uses and is comprised of undeveloped, underdeveloped, and developed land owned by different property owners implementing development projects under different timeframes. This type of Eco-District focuses on aligning development timeframes to maximize opportunities to meet environmental goals. It also works closely with the community to build on its existing character and to integrate the physical qualities of the area as part of its character. Our Central Corridor Plan area has been identified as a Type 2 Eco-District.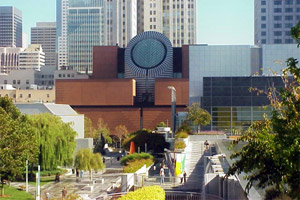 TYPE 2 ECO-DISTRICT HIGHLIGHT
Central Corridor Eco-District
To implement an infrastructure systems-based approach to meeting water and energy goals while working with public and private development timeframes for the Central Corridor plan area.
For more information:
Type 3: The Strengthened Neighborhood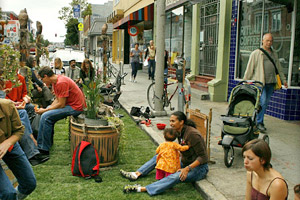 The Type 3 Eco-District, in coordination with the Office of Economic and Workforce Development's Invest in Neighborhoods Initiative, focuses on existing residential neighborhoods and their commercial corridors. Type 3 Eco-Districts are located in parts of the city that are not planned to accommodate growth, but through tactical urbanism can bolster distinctive character and support eco-friendly behavior.
Type 4: The Industrial Network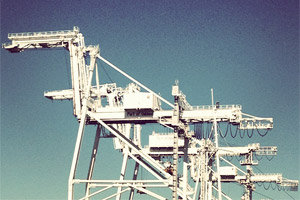 The Type 4 Eco-District focuses on creating stronger connections between the city's production, distribution, and repair (PDR) uses. PDR has been recognized as an important component of the city's culture, its economic stability, and the retention of its diverse labor force. Aligning these industries so that their operating and distribution systems can work more efficiently is the primary focus of the Type 4 Eco-District.
Current Work Includes
Contact
For more information about the Sustainable Development program, please contact:
Jon Swae
Lead Planner
Central SoMa Eco-District
San Francisco Planning Department
(415) 575-9069
jon.swae@sfgov.org