Accessory Dwelling Units
Curious about the benefits of adding an ADU to your property?
Click on the video below!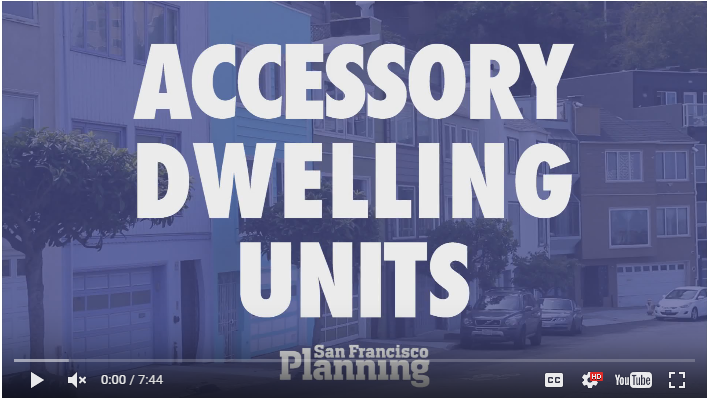 Accessory Dwelling Units (ADUs), also called secondary units, in-law units, or cottages, are units added to existing residential buildings. In 2016, San Francisco's Accessory Dwelling Unit Program became available Citywide in zoning districts that permit residential use.
Adding an ADU to your property can provide several benefits, such as providing housing for family members, simplifying your lifestyle, and increased financial flexibility. For more information on the benefits of ADUs, please see our video, "Are ADUs Right For You?"
Recent amendments have been made to the Planning Code that may offer more flexibility to your project. One applies to projects in multi-unit buildings and single-family homes that require waivers from the Planning Code to add the ADU (207(c)(4). The other program applies to single-family homes that do not require any waivers from the Planning Code, or 207(c)(6). Please find more information below on the recent changes, which program applies to you, and how they may offer more flexibility to your ADU project.
*If you're looking to legalize an existing unauthorized unit, please review San Francisco Planning's Fact Sheet on the Legailzation program. More information is also available on the Department of Building Inspection webpage here: http://sfdbi.org/UnitLegalization.
Video: Are ADUs Right For You?
ADU Handbook:** The San Francisco Planning Department and OpenScope Studio developed a handbook to serve as a guide for homeowners and contractors when adding a unit to an existing residential building.


** Please note: At this time, the ADU handbook is being updated to reflect the recent changes in the ADU program.

An ADU financial calculator is available to estimate how many years it will take for an owner to break even on the costs of adding an ADU. Download the calculator here. | MS Excel file
This calculator is originally from www.accessorydwelling.org a one-stop website about accessory dwelling units
If you have questions about the program, please contact staff at:
Planning Information Center
1660 Mission Street, First Floor
San Francisco, CA
CPC.ADU@sfgov.org
415.558.6377
Resources
Legislative Documents and Code Summary Updates
Event Coordinator
If you would like staff to attend an upcoming neighborhood or organization meeting, please contact Kimia Haddadan, kimia.haddadan@sfgov.org.