Accessory Dwelling Units
Effective Monday, August 6, 2018
ADU staff is now available to conduct all intake reviews for ADU and Legalization permit submittals. Comments will be provided at the counter or within five business days. They will also field all general Planning Information Center(PIC) inquiries on ADU and Legalization permits.
ADU Staff Availability:
Planning Desk, Counter 38
1660 Mission, 5th Floor
8 a.m. - 4 p.m. Monday, Tuesday, Thursday, and Friday
10 a.m. - 4 p.m. Wednesdays
*Questions related to Preservation will be offered from 8 a.m.- 10 a.m. on Monday, Tuesday, Thursday, and Friday.
In addition, we offer appointment-based preliminary plan review opportunities. This is similar to a Planning Department project review meeting. Days and times available for these one-hour appointments are:
Monday through Friday:
This optional appointment-based plan review is offered only prior to permit filing. We will not review projects at the Intake review stage for filing/submittal at these appointments.
Make an Appointment
Schedule an in-person preliminary plan review Monday through Friday at either 11am or 2pm.
*You may also email your ADU/ Legalization preservation inquiries to CPC.ADU@sfgov.org.
Accessory Dwelling Units (ADUs), also called secondary units, in-law units, or cottages, are units added to existing residential buildings.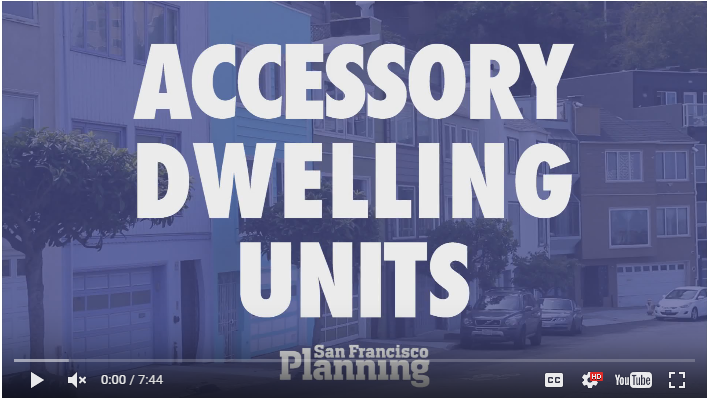 Adding an ADU to your property can provide several benefits, such as providing housing for family members, simplifying your lifestyle, and increased financial flexibility. For more information on the benefits of ADUs, please see our video, "Are ADUs Right For You?"
There are two programs for adding an ADU to your property, below (update August 2018: new ADU legislation is currently proposed - contact CPC.ADU@sfgov.org for status and details):
Waiver ADUs - this program applies to projects in multi-unit buildings and single-family homes that require waivers from the Planning Code to add the ADU, or 207(c)(4)
No Waiver ADUs - this program applies to single-family homes that do not require any waivers from the Planning Code, or 207(c)(6)
*If you're looking to legalize an existing unauthorized unit, please review San Francisco Planning's Fact Sheet on the Legailzation program. More information is also available on the Department of Building Inspection webpage here: http://sfdbi.org/UnitLegalization.
Video: Are ADUs Right For You?
ADU Handbook:** The San Francisco Planning Department and OpenScope Studio developed a handbook to serve as a guide for homeowners and contractors when adding a unit to an existing residential building.
** Please note: due to recently-adopted Code changes to expand and improve the ADU program since completion of the Handbook in 2015, some of the sections of this document are out-of-date – we are in the process of updating the ADU Handbook and anticipate publication of the revised version in summer 2018. Please direct any questions to the Planning Department using the contact information listed below.
An ADU financial calculator is available to estimate how many years it will take for an owner to break even on the costs of adding an ADU. Download the calculator here. | MS Excel file
This calculator is originally from www.accessorydwelling.org a one-stop website about accessory dwelling units
If you have questions about the program, please contact staff at:
Resources
Legislative Documents and Code Summary Updates
Event Coordinator
If you would like staff to attend an upcoming neighborhood or organization meeting, please contact Marcelle Boudreaux, marcelle.boudreaux@sfgov.org.