Local Coastal Program Amendment
San Francisco's Local Coastal Program (LCP) establishes land use, development, and environmental policies for the area designated as the Coastal Zone by the California Coastal Commission. The LCP is a policy document required by the California Coastal Act to manage coastal resources, such as dunes, wildlife, public infrastructure, and trails. Originally certified in 1986 as the city's "Western Shoreline Area Plan," the LCP can be viewed here.
photo credit: AECOM
Rising tides from global climate change have already started impacting the shoreline of Ocean Beach. The effects will continue for decades in the form of beach and land erosion, damage to parking and roadways, reduced access to the coastline, and eventual damage to major public infrastructure.
The LCP Amendment will establish the San Francisco's coordinated approach for implementing the sea level rise and coastal erosion recommendations in the Ocean Beach Master Plan. The Master Plan is a result of the cooperative involvement of the San Francisco and a host of federal, state, and local agencies as well as over a decade of public dialogue about managing the Ocean Beach shoreline.
Utilizing the best available science, San Francisco is amending its LCP to address sea level rise and erosion due to climate change. The amendments will provide for long-term resiliency by balancing environmental resources, maintaining coastal access, addressing community needs, and protecting our investment in public infrastructure, such as roads and wastewater treatment facilities.
Importantly, because of the urgent need for action, this LCP Amendment will only address implementation of the Master Plan recommendations related to sea level rise and coastal erosion. The LCP Amendment will cover the entire Coastal Zone, but implementation will largely occur south of Sloat Boulevard, where coastal vulnerabilities are most acute. Master Plan recommendations not addressed in this LCP Amendment area are anticipated to be addressed in a future, broader LCP Amendment.
Coastal Zone Map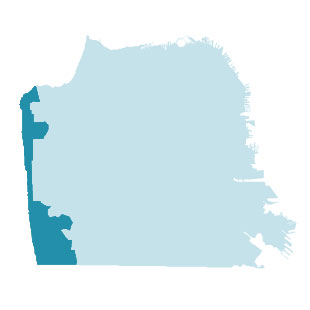 The San Francisco Coastal Zone extends approximately 6 miles along the western shoreline, from the Point Lobos recreational area in the north to the Fort Funston cliff area in the south, generally spanning the Ocean Beach shoreline.
Public Involvement/Timeline
Public involvement will include public meetings, opportunities to review and comment on the draft policies, and public hearings conducted by both San Francisco and the California Coastal Commission over a period of approximately 18 months.
A timeline of public involvement opportunities is presented below:
 
STEP 1 - Project Launch
Fall 2015

LCP Advisory Group Meeting
Planning Commission Briefing
Board of Supervisors Briefing

STEP 2 - Sea Level Rise
Data Summary
Spring 2016

LCP Advisory Group Meeting
Planning Commission Briefing
Board of Supervisors Briefing

STEP 3 - LCP Amendment
Scope Definition
Spring 2016

LCP Advisory Group Meeting
Public Meeting was held on April 19, 2016

STEP 4 - Policy Development
and 6-week Public Review
Spring 
& Summer 2016

LCP Advisory Group Meeting
Planning Commission Briefing
Public Meeting

STEP 5 - Local Approval Process
Summer & Fall 2016

Planning Commission Initiation Hearing
Planning Commission Adoption Hearing
Board of Supervisors Introductory Hearing
Board of Supervisors Adoption Hearing

STEP 6 - California Coastal Commission
Approval Process
Winter 2016/17

Coastal Commission Hearing
Documents
Background Documents
Existing Shoreline Management Plans
Sea Level Rise
Transportation
Application Packet
Contact
To receive updates about the LCP Amendment process and announcements about upcoming public meetings, sign up for automated email notifications, or contact:
Chris Kern
LCP Amendment Project Manager
SF Planning Department
chris.kern@sfgov.org
(415) 575-9037
The LCP Amendment is largely funded by a grant from the California Coastal Commission and the Ocean Protection Council.