Historic Preservation Design Guidelines

Overview
The Secretary of the Interior Standards (SOIS), administered by the National Park Service under the Department of the Interior when assessing the treatment of individual historic structures and structures within national historic districts, were developed decades ago.
Currently, the majority of preservation programs across the country, including San Francisco, rely on these federal Standards as a foundation for project review at the local level. Most of these programs supplement the SOIS with locally established guidelines.
While the SOIS have generally served San Francisco satisfactorily, their use as the primary approval criteria has two primary deficiencies:
1.) they are broad, and thus subject to varying levels of interpretation;
2.) they don't provide direction specific to San Francisco's unique urban and historic environment. 
For these reasons, the Planning Department is currently developing design guidelines for historic structures and districts specific to San Francisco. The overarching goal is to establish guidelines consistent with the Secretary of the Interior's Standards that also addresses preservation goals and approaches consistent with San Francisco's Preservation Element (the Preservation Element establishes, at a policy level, the preservation expectations of the City). The guidelines will help establish a common directive as to how to treat historic resources, define a clear set of design principles, and identify a range of appropriate design solutions. 
Purposes and Goals of the Historic Design Guidelines Project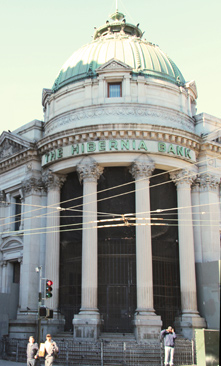 Design Guidelines articulate expectations regarding the treatment of the built environment. They promote and protect neighborhood character and quality of life.
The Historic Preservation Design Guidelines will achieve a number of goals that serve the interests of all users: the public, design and planning professionals, City staff, and decision-makers such as the Historic Preservation Commission, Planning Commission, and the Board of Supervisors. These goals include:
Consistency
They will provide a common understanding of how they are to inform projects and are applied equally to all properties with like circumstances.
Predictability
Well-defined, focused, and accessible guidelines using non-technical language help ensure a level of predictability. Clear expectations provide users a collective understanding, allowing a project to move through each step of its respective approval process(es) smoothly.
Flexibility
Guidelines that encourage a more innovative and original approach help ensure that the guidelines will reflect evolving community values and expectations, and can influence the ways in which they are applied over time.
The guidelines will be directive, not prescriptive. They will inform the design and assessment of all preservation projects subject to review and will work in concert with San Francisco's General Plan, the Secretary of the Interior Standards, and all other Building Code and Planning Department requirements.
Next Steps
Through 2016, the Planning Department is focused on completing and refining the Draft Historic Preservation Design Guidelines. To receive updates on these processes, including notices of meetings, open houses, "Ask-a-Planner" events, hearings, and document releases, please sign-up for the email list via the webpage if you have not done so already.
Our goal is to release a draft document for public review by the end of 2015, followed by a revised draft guideline document that reflects comments and input from the public, stakeholders, the Historic Preservation Commission, and the Planning Commission.
To create a complete and successful design guideline document, there are many details to be refined and we will seek your input and participation throughout this project. The Planning Department will help facilitate a public process that will include open houses and other interactive events with the public and stakeholders. A public participation schedule will be released soon, so please be sure to sign up for project updates.
Upcoming Events
Coming Soon
Contact
Sign up to be on our project mailing list to get updates on the Historic Preservation Design Guidelines planning process. Questions, comments, and suggestions on this planning effort should be directed to:
Anne Brask
Planner, Designer
anne.brask@sfgov.org
415-575-9078
---
Additional Links/Resources