Balboa Reservoir
Overview
In late 2014, the Mayor's Office of Economic and Workforce Development, the Planning Department and the San Francisco Public Utilities Commission initiated a study of the western portion of the Balboa Reservoir site (aka Balboa Public Site), located off of Ocean and Phelan Avenues in Balboa Park. It is the first site to be studied under San Francisco's Public Land for Housing Program, which seeks to address the City's most pressing issues around affordable housing and transportation, while allowing the public agencies that own these sites to fulfill their missions to the citizens of San Francisco. In the case of the Balboa Public Site, the owner is the San Francisco Public Utilities Commission. Download the existing planning conditions report here and existing transportation conditions report here.
The Balboa Park Station Area Plan (Adopted 2009) provides the building blocks for development of the reservoir. The Plan includes policies designed to increase affordable housing for a variety of incomes; create open space; knit together isolated areas of the neighborhood; integrate diverse land uses with the area's commercial and transit corridors; design streets for walking, biking and public transit; and otherwise strengthen the Balboa Park area. Now, through a public process, San Francisco can take steps to utilize the 17-acre SFPUC property to achieve many of these objectives. 
The Balboa project is coordinated with several concurrent planning and construction projects in the Balboa Park Station Area, including the City College of San Francisco's master plan process. City of San Francisco projects include:
Balboa Reservoir CAC & Public Participation
Public discussion of the potential development at the Balboa Public site will be carried forward by a Community Advisory Committee (CAC). The CAC meetings provide an opportunity for the community advisors and the public to engage in deeper, detailed discussions about specific aspects of the project as they relate to transportation, parking, open space, City College, sustainability and neighborhood character.
The CAC will advise City staff on the principles in the request for proposals (RFP) to solicit a developer partner. The RFP is expected to be issued in late 2015 or early 2016. Once a developer partner is selected through the RFP process, the CAC will coordinate more focused community design meetings with the Planning Department and developer partner. This second phase of outreach is expected to extend several years, through the project's legislative approvals. See the project timeline here.
The CAC was appointed by Mayor Ed Lee and Supervisor Norman Yee. CAC member biographies can be found here. The CAC is composed of the following community representatives:
Materials and Links
Background
Public Workshops 2015
CAC 2015-2016
Potential Project Timeline
Click on image to enlarge.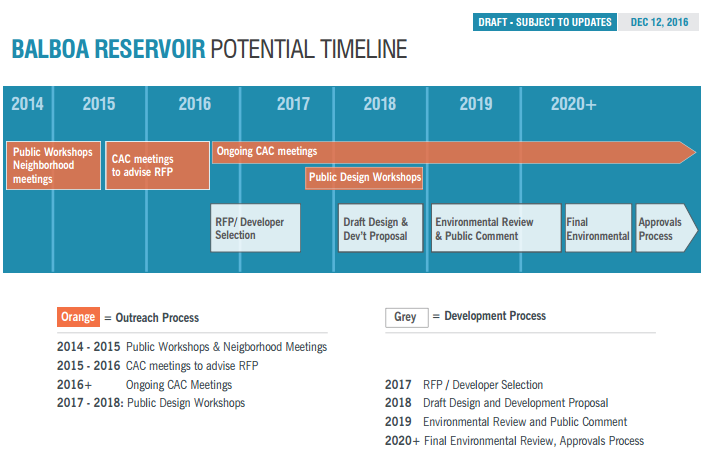 Events
The CAC meets the second Monday of every other month. Click here for meeting details.
Contact
To submit questions or comments to City staff or members of the CAC, please contact:
Phillip C. Wong
Office of Economic and Workforce Development, City and County of San Francisco
City Hall, Room 448, 1 Dr. Carlton B. Goodlett Place, San Francisco, CA 94102-4653
Direct: 415-554-6512
Fax: 415-554-4565
BRCAC@sfgov.org