South of Market Area Historic Resource Survey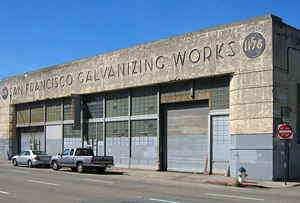 The Eastern Neighborhoods SoMa Area Plan and Western SoMa Community Plan Historic Resource Survey (SoMa Survey) began in 2007 and was completed in 2010. The purpose of the survey was to identify buildings and structures that appeared to be eligible for listing in the California Register of Historical Resources (including those that appear eligible for listing in the National Register of Historical Places). The Planning Department received funding from the Historic Preservation Fund Committee and was assisted in the survey work by the architecture firm of Page & Turnbull, Inc.
The SoMa Survey area included areas from Mission Street to Townsend Street, between 1st and 13th Streets. See map. The SoMa Survey resulted in documentation and/or assessment of 2,142 individual properties, of which approximately 1,467 properties constructed in or before 1962. The survey findings and materials were made available for public review during a community workshop held on Wednesday, November 17, 2010. (See Announcement for more information.) The findings of the SoMa Survey were adopted by the Historic Preservation Commission on February 16, 2011. (Historic Preservation Commission Resolution No. 103)
Portions of this survey area are also within the boundaries of the Central SoMa Area Plan. A few properties which were not included in the SoMa Survey were recently addressed by the Central SoMa Historic Resources Survey.
Survey Map
The Department has created an interactive map to navigate around the survey area and find survey parcels. You can view survey results and materials for specific properties and areas. To use the map, click here.
Survey Materials
To view specific survey materials listed below, click on the name of a document to view that document. Printed copies are available for review at the Planning Department offices.
Historic Resource Survey Findings:

Historic Districts (Descriptions, Maps and Property Lists):

Other: