Public Outreach and Engagement (POE)

Public input is incredibly valuable to the San Francisco Planning Department and is important in helping us develop good policy and make sound decisions.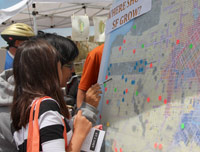 In 2011, we conducted a Public Outreach and Engagement Effectiveness survey to evaluate the department's outreach efforts. This work was made possible through financial support from the Friends of City Planning and technical support from Pepperdine University's Davenport Institute for Public Engagement and Civic Leadership.
Based on these results, the department has created a Public Outreach and Engagement (POE) Program to better serve staff, stakeholders and the community at‐large through a comprehensive, supported, and thorough outreach and engagement program.
Program Goals
The program is structured around achieving the following goals, which grew out of the department's analysis of its existing and desired outreach and engagement efforts:
Achieve more effective and broader engagement of the City's residents and businesses;
Develop more collaborative and positive working‐relationships with the public;
Increase public knowledge and understanding of the Department's mission and work; and
Ensure the Department is an adaptive organization that uses the latest methods for outreach and engagement when appropriate.
The Public Outreach and Engagement Team (POET)
The program is staffed by a committed group of planners representing various parts of the department. This internal advisory group is charged with developing internal policies, procedures and templates to assist with POE, provide advice to staff on POE-related issues and projects, and identify staff training needs to conduct effective public outreach and engagement.

The team includes:
Claudia Flores (Citywide Planning), Kimberly Durandet (Zoning and Compliance), Brittany Bendix (Current Planning), Kei Zushi (Environmental Planning), Audrey Desmuke (Citywide Planning), Candace SooHoo (Communications), Kimia Haddadan (Legislative Affairs), and Kelley Amdur (Administration and Program Manager)
Resources
Public Outreach and Engagement Effectiveness Report
Planning Commission Documents
Templates
In the News
Links
Contact
If you'd like to learn more about the Public Outreach and Engagement Program, please email planningnews@sfgov.org.