Inclusionary Affordable Housing Program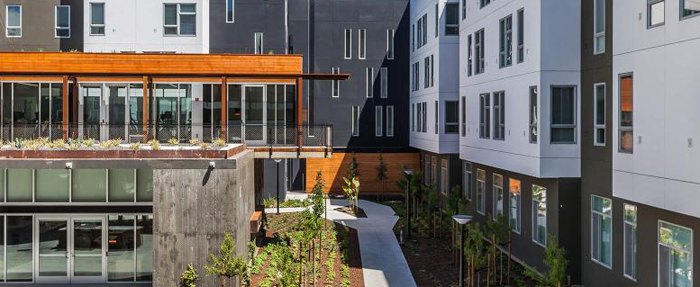 What is the Inclusionary Housing Program?
San Francisco's Inclusionary Housing Program requires new residential projects of 10 or more units to pay an Affordable Housing Fee, or meet the inclusionary requirement by providing a percentage of the units as "below market rate" (BMR) units at a price that is affordable to low or middle income households, either "on-site" within the project, or "off-site" at another location in the City.
The Program is governed by Planning Code Section 415 and the Inclusionary Housing Program Procedures Manual, and is administered by the Mayor's Office of Housing and Community Development (MOHCD) and the Planning Department.  To be eligible to rent or purchase a BMR unit, a household must meet specific requirements, including income requirements. Read more from MOHCD.
What Changes Have Been Adopted?
The Inclusionary Housing Program has been in effect since 2002. On July 18, 2017, the Board of Supervisors unanimously approved legislation (Board File No. 161351) to significantly revise the key requirements and provisions contained in Section 415 of the Planning Code, including as they apply to "grandfathered" projects currently in the development pipeline. The legislation was signed into law by Mayor Ed Lee on July 27, 2017 and become effective on August 26, 2017. Additional trailing legislation (Board File No. 170834) came into effect on December 3, 2017 to make a handful of technical changes to Planning Code Section 415; including but not limited to the application of the Inclusionary Program in the Transbay Redevelopment Area and in certain areas including the Mission Plan Area, and how new requirements for feasibility studies of significant re-zoning actions will apply.
In addition, this legislation also established new dwelling unit mix requirements for projects in residential districts outside of "form-based" zoning districts, generally located in Plan Areas. These new requirements are set forth in Section 207.7 of the Planning Code.
For more information please see the Resources and Background Documents provided below.
Resources
Background Documents
Contact
Have questions about the adopted changes and implementation of new requirements? Contact:
Jacob Bintliff 
(415) 575-9170
jacob.bintliff@sfgov.org
Carly Grob 
(415) 575-9138
carly.grob@sfgov.org