How Many Trees? Contest
Can you guess the correct number of street trees in San Francisco?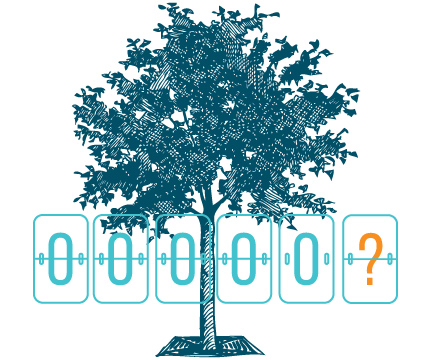 The contest is now closed. Stay tuned for the results!
The City of San Francisco has begun its first ever citywide street tree census, EveryTreeSF. That means we're mapping and recording every street tree in the City! While previous estimates have ranged between 100,000 - 115,000, we'll know the exact number of street trees – along with their location, species and condition – once EveryTreeSF is completed this summer.

As part of this effort, we're offering a contest to see who can come closest to guessing the total number counted once the census has been completed.

Entries closest to the actual final number will WIN the following prizes:
Grand Prize
Tree Tribute – a street tree planted in your name by Friends of the Urban Forest
$100 gift card to Sloat Garden CenterM
Membership to San Francisco Botanical Garden
Runner-up prizes include
Tickets to Nightlife at the California Academy of Sciences
The Trees of San Francisco book by Mike Sullivan
EveryTreeSF custom canvas messenger bags
Tickets to the San Francisco Botanical Garden's Walking Tour
Enter the contest here and let us know how many street trees you think there are. One entry per person please!

Post Your Best Treefie!

Join us for a virtual tree tour of the City by following @EveryTreeSF on Instagram. We'll be posting some of staff's best "treefies" with fun facts about the City's trees. Post photos of your favorite street trees and tag us!