Corbett Heights Historic Context Statement

Photo Credit: Western Neighborhoods. Looking west on Corbett Road, 1912.
"The combination of an irregular street plan, dramatic changes in elevation, and a mix of residential buildings from every decade since the 1860s creates an area that is surprising and distinctive both at the scale of the street and at the scale of the city." - Report
Overview
Historic Context Statements are summary documents that help identify, record, and evaluate historic and cultural resources by grouping information around a common theme, area, and time period. They are established evaluative tools that provide information needed to make informed planning decisions, prioritize preservation goals, evaluate potential historic resources, and provide a narrative of a community's history. Click here to see examples of recent SF-based context statements.
Study Area Map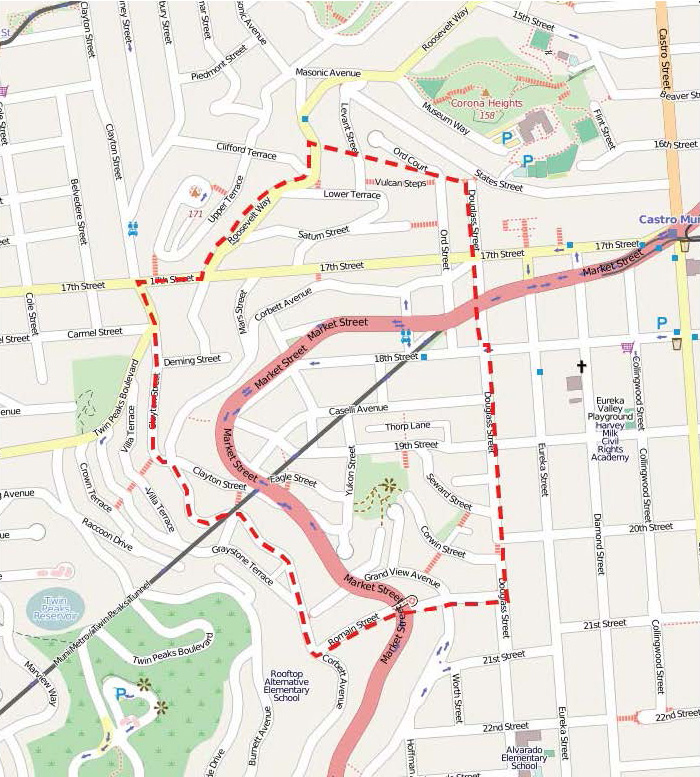 The Corbett Heights Historic Context Statement is being developed for the Corbett Heights neighborhood of San Francisco. The effort will document the history, patterns of development, and physical fabric of the district from the 1840s to 1974. The resulting document will create a set of preservation goals and priorities, identify sites that might qualify for historic designation, provide recommendations for future research, and create a framework for evaluating the significance of properties in this unique neighborhood.
This project is supported by a grant from the San Francisco Historic Preservation Fund Committee and is sponsored by the Corbett Heights Neighbors.
Project Team and Advisory Committee
To contribute your thoughts, or for more information on the project, please email us at: info@corbettheights.org
Meetings & Events
August 16, 2017 - Historic Preservation Commission, City Hall room 400 (hearing starts at 12:30pm however this item has not been given a specific time slot): Review and Comment of Draft Historic Context Statement
Downloadable Materials
Contacts
To be added to the mailing list and kept informed of the project, please send an email request to info@corbettheights.org

Corbett Heights Neighbors
info@corbettheights.org

Project Historian
Michael Corbett (Consultant)
mcorbett@lmi.net
Shannon Ferguson
Preservation Planner
San Francisco Planning
1650 Mission Street, Suite 400
San Francisco, CA 94103
(415) 575-9074
Shannon.Ferguson@sfgov.org