California Pacific Medical Center (CPMC)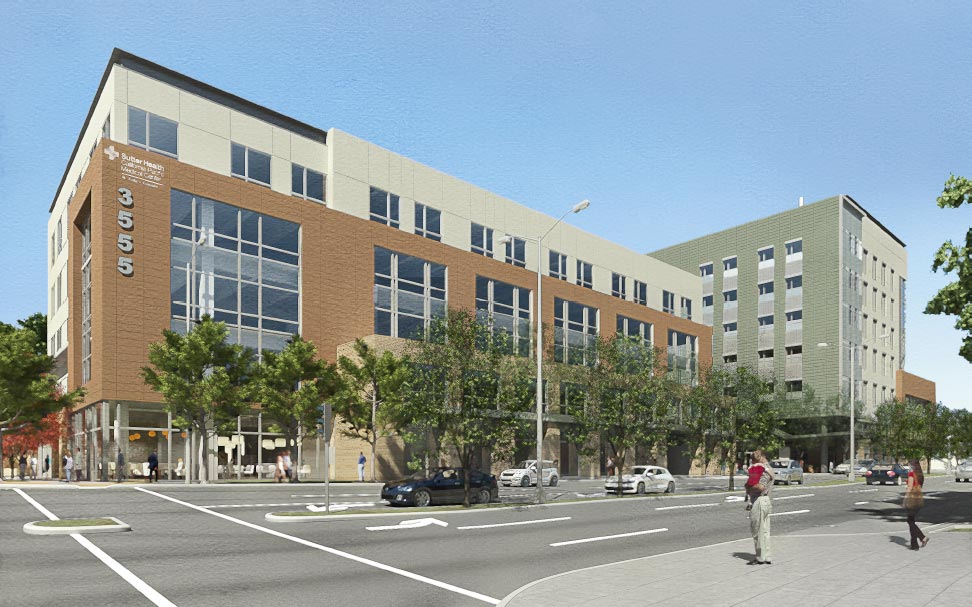 CPMC's proposed St. Luke's Medical Office Building
PROJECT UPDATE - Guerrero Park Community Meeting

Over the last several months, Sutter CPMC in collaboration with design firm HOK, and San Francisco Planning have worked together with local community  members to help shape the design of Guerrero Park for both residents and visitors to enjoy. Based on the input received, a draft design will be unveiled at an upcoming community meeting.
Join us as we unveil the new design for Gerrero Park. Highlights will include more trees, green space, seating, flexible areas for special events, space of art, and safer crosswalks across Guerrero Street. We hope you can join us!
Thursday, November 29 from 6 - 8 p.m.
CPMC Hosptial, 3555 Cesar Chavez, Room 160 A/B
What is CPMC?
California Pacific Medical Center (CPMC) is made up of four of the oldest medical centers in San Francisco, consisting of the California Campus (previously known as the Children's Hospital of San Francisco), Pacific Campus (previously known as the Pacific Presbyterian Medical Center), Davies Campus (previously Ralph K. Davies Hospital), and St. Luke's Campus.
History of CPMC
CPMC was formed in 1991 by the merger of Pacific Presbyterian Medical Center and Children's Hospital of San Francisco. Ralph K. Davies Medical Center became the third campus of CPMC in 1998 and St. Luke's Hospital became CPMC's fourth campus in 2007.
Hospital, Clinic, and Research Facilities
Each of the four campuses contain a hospital and an emergency department which provide inpatient and outpatient services. In addition to the hospital campuses, CPMC owns and/or operates multiple outpatient clinics, a research facility and several other properties more fully described in the most recent Institutional Master Plan (IMP) document.
CPMC is one of three hospitals that operate hospital facilities at more than one location within San Francisco (the other two are Kaiser and UCSF). St. Francis Memorial and St. Mary's Medical Center operate as independent facilities, although both are a part of the Catholic Healthcare West (CHW) system.
State law (SB 1953) requires that all acute-care hospitals be seismically upgraded sufficiently to remain operational after a major earthquake. CPMC is one of four hospitals in the City currently building new facilities to comply with this law; the other three hospitals are UCSF, SF General Hospital, and Chinese Hospital.
Three of CPMC's four acute-care hospitals must be rebuilt or de-licensed in order to comply with state law: the California, Pacific, and St. Luke's Campuses. The Davies Campus hospital was retrofitted in 2008, enabling this campus to accommodate acute-care hospital services until 2030.
The Planning Commission certified the environmental impact report (EIR) and approved CPMC's Long Range Development Plan, including the construction of new hospital and related facilities at the Cathedral Hill (now called Van Ness and Geary Campus) and St. Luke's locations, on May 23, 2013. The Board of Supervisors adopted enabling legislation and approved a Development Agreement outlining the terms and requirements under which CPMC must build and operate its new facilities on July 11, 2013.
Guerrero Park
Background
Guerrero Park was originally installed in 2009, through a community-led effort, as a temporary traffic calming project. As part of their Development Agreement with the City, CPMC has committed to install permanent improvements at this site. CPMC, design firm HOK, and SF Planning will be working together with the community to design and implement a great open space that will serve as a southern gateway to the Mission Neighborhood, as well as a green pedestrian haven for residents and visitors to enjoy.
The first public workshop session was held on November 29th where some initial input was gathered: Desire for safety buffer along Guerrero, flexible space for movie screenings or farmers market, as incorporating a focal art piece, and some low maintenance children's play equipment and fitness equipment nearest San Jose Avenue.
Our next input sessions will be on Sunday, January 28th from 10am to 2pm in the park. Please join us and help us create San Francisco's next great open space!
Outreach
Staff Contact
Elizabeth Purl - CPMC Development Coordinator
(415) 575-9028
elizabeth.purl@sfgov.org

María de Alva - Guerrero Park Development Agreement Implementation Project Contact
(415) 575-8729
maria.f.dealva@sfgov.org