San Francisco Planning Releases Public Space Stewardship Guide
FOR IMMEDIATE RELEASE  
Media Contact:  
Julie Flynn 
The Street Plans Collaborative 
julie@streetplans.org  
860.539.8061 
Gina Simi 
San Francisco Planning
gina.simi@sfgov.org 
Provides best practices and guidance from experts in funding, programming and maintaining successful public spaces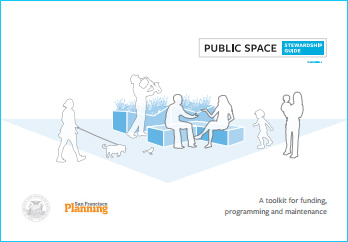 SAN FRANCISCO – San Francisco Planning has released the Public Space Stewardship Guide, a living document that provides community groups and city leaders with models, case studies and ready-to-use tools for funding, programming and maintaining a successful public space. 
"San Francisco is a leader in the public realm revolution," said San Francisco Planning Director John Rahaim. "Parklets, plazas, Living Innovation Zones, and urban prototyping are transforming public spaces like never before. The Public Space Stewardship Guide is an invaluable resource for cities, neighborhood organizations, business owners, neighbors, and artists nationwide who want to activate and sustain successful public spaces." 
Successful public spaces require funding, programming, and maintenance; and the most celebrated spaces need community partnerships to implement all three. However, cities and communities have historically lacked the resources to better understand, compare and budget for these essential elements of public space stewardship. The Public Space Stewardship Guide comes at an opportune moment as more neighborhood associations, non-profits and elected representatives seek to support public life in their own plazas, parks and neighborhood spaces.  
"Cities all over the country are developing new models for stewardship of emerging public spaces, such as parklets, plazas, night markets, and living alleys," said Street Plans Principal Mike Lydon. "Street Plans is incredibly excited to have worked with San Francisco Planning and MJM Management Group to produce this new resource. We hope the case studies highlight diverse approaches to public space management, and that the ready-to-use templates in the Guide will help stewards succeed in creating thriving public spaces in their communities."  
The Public Space Stewardship Guide is the result of a comprehensive research study of best practices and sustainable methods for public space stewardship nationwide. It presents 17 case studies organized around five models for sustainable public space stewardship: Event-Based Models, Grassroots Partnerships, Public/Private Partnerships, Self-Governing Special Assessment Districts, and Maintenance/Technical Assistance Partnerships. The guide introduces the models, illustrates them with case studies, and summarizes the advantages and disadvantages of each.  
The models provide a helpful framework for understanding each project, but many case studies integrate more than one model. Each case study has strengths and weaknesses unique to the objectives, funding and capacity of the stewarding organization or partnership. Case studies were selected to represent a range of organizations, space types, "use levels," and budgets. The appendices in the document provide ready to-use tools, including a recommended outline for a public space management plan, maintenance plan templates, and a guide to funding sources which references additional case studies. 
As a living document, the Guide is expected to grow and evolve. Community organizations and cities worldwide are invited to find more information about the project, download the Public Space Stewardship Guide, and contribute public space success stories at publicspacestewardship.org.  
---
San Francisco Planning  
San Francisco Planning, under the direction of the Planning Commission, plays a central role in shaping the future of our City by generating an extraordinary vision for the General Plan and in neighborhood plans; fostering exemplary design through planning controls; improving our surroundings through environmental analysis; preserving our unique heritage; encouraging a broad range of housing and a diverse job base; and enforcing the Planning Code. For more information visit sfplanning.org. 
Street Plans 
Founded in Miami Beach in 2009, Street Plans is an award-winning urban planning, design, and research/advocacy firm with offices in Miami, New York City, and San Francisco. Our firm is known for advancing innovative practices to test and implement projects for a range of public, private, and non-profit clients. Through the publication of four open-source guides, and one full-length book published by Island Press, we have become leading stewards of the international Tactical Urbanism movement. Our research and advocacy work has also given shape to topics including open streets, public market design, and public space stewardship. For more information visit www.streetplans.org.  
About MJM Management Group 
At MJMMG our passion is finding innovative, sustainable and fiscally beneficial solutions to complex urban settings. Since 1991, our award-winning strategists, advisors and managers have activated, re-envisioned and maintained parks, districts and developments to improve their financial and social performance. We are dedicated and involved community stewards. We are a single source for full-service integrated property management needs, placemaking development, and special assessment district formation and services. For more information visit www.mjmmg.com.  
###