About Accessory Dwelling Units
Looking for detail on the application process? Please visit this page.
Accessory Dwelling Units (ADUs), also called secondary units, in-law units, or cottages, are units added to existing residential buildings.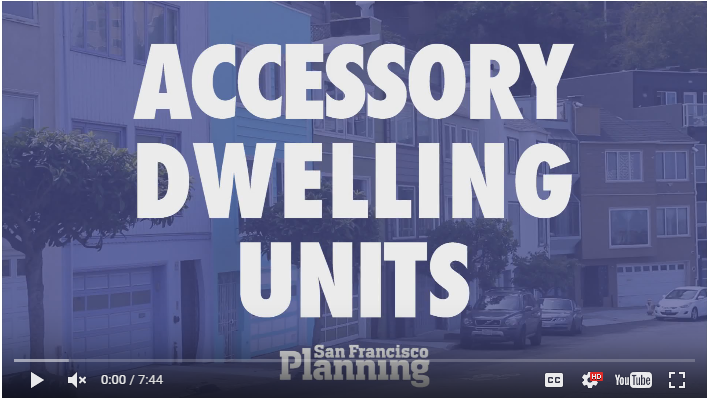 Adding an ADU to your property can provide several benefits, such as providing housing for family members, simplifying your lifestyle, and increased financial flexibility. For more information on the benefits of ADUs, please see our video, "Are ADUs Right For You?"


Click to download.
Please note, a high resolution
version of the handbook
will be available early 2019.
ADU Handbook: Revised December 2018. The San Francisco Planning Department and OpenScope Studio, developed a handbook to serve as a guide for homeowners and contractors when adding a unit to an existing residential building.
An ADU financial calculator is available to estimate how many years it will take for an owner to break even on the costs of adding an ADU. Download the calculator here. | MS Excel file
This calculator is originally from www.accessorydwelling.org a one-stop website about accessory dwelling units
There are two programs for adding an ADU to your property, below are the updated handouts which reflect recent ADU legislation, effective September 10, 2018. After reviewing the FAQs below, please feel free to contact CPC.ADU@sfgov.org for additional details.
No Waiver ADUs - this program applies to single-family homes that do not require any waivers from the Planning Code, or 207(c)(6)
Waiver ADUs - this program applies to projects in multi-unit buildings and single-family homes that require waivers from the Planning Code to add the ADU, or 207(c)(4)

Draft Regulatory Agreement: If the existing building includes Rental Unit(s) (as defined by Section 37.2(r) of the Administrative Code), and Planning Code waivers are granted, the new unit will be subject to rent control. Generally speaking, these existing buildings are already subject to rent-control. A regulatory agreement will be created adding the new ADU under rent control. Please see a sample of the agreement here. The Regulatory agreement will be edited by Planning staff to reflect project specific conditions, and is required to be fully executed prior to permit issuance.
Legalize an existing unauthorized unit
In some cases an ADU already exists on the property without permits. If you're looking to legalize an existing unauthorized unit, please review San Francisco Planning's Fact Sheet on the Legailzation program. More information is also available on the Department of Building Inspection webpage here: https://sfdbi.org/UnitLegalization.
Resources
Legislative Documents and Code Summary Updates
Want to make an appointment?
Visit the Planning Information Center or book online, find out more here.
For more information
If you have questions about the program, please contact staff at:
Visit the Planning Information Center (PIC)
Planning Desk, Counter 38 (see Drop-in Hours above)
1660 Mission Street
San Francisco, CA
CPC.ADU@sfgov.org
415.558.6377