Richmond District Strategy

Photo credit: John Weiss, Flickr Creative Commons.
Overview
The Richmond District Strategy seeks to provide a comprehensive understanding of the District's current trends, needs, and opportunities in order to ensure a sustainable and high quality of life for the Richmond District now and in the future. This effort was initiated by former District 1 Supervisor Eric Mar, in collaboration with San Francisco Planning. 
In July 2014, Planning launched a series of efforts to learn more about the Richmond. First, we analyzed existing data to learn about the current trends and conditions in the neighborhood. The results were published in the Existing Conditions Report. We followed this analysis with speaking directly with the people who live, work, and visit the Richmond through a Community Needs Assessment Survey. This Survey was released in October 2015, and closed at the end of January 2016 and we received 1,400 responses, with a significant majority being residents of the Richmond. The results of what we learned were detailed in the Community Needs Assessment Survey report.
Since July 2016, we have embarked on another round of outreach to seek feedback on our findings, establish community goals, and identify priorities. We plan to define these goals and priorities, in collaboration with community stakeholders, by early 2017. The Strategy will then use these established goals as a foundation for a series of solutions, policies, and funding priorities for the neighborhood that will also be established in collaboration with the community.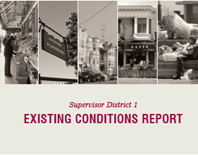 The Existing Conditions Report summarizes data trends on the Richmond under the following topics:
People, Zoning & Land Use, Residential and Commercial Character, Development Trends, Transportation, Streets and Public Space, and Community Facilities
Existing Conditions Report completed September 2015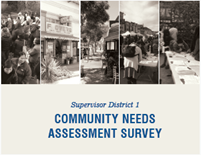 Community Needs Assessment Survey details a snapshot of the needs and concerns of the respondents who live, work and visit the Richmond. We will continue to work with the community to assess the community needs.
Community Needs Assessment Survey Results completed June 2016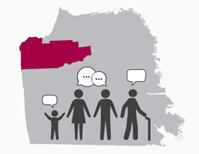 Additional community input will help:
Identify community priorities
Establish community goals; and
Create policies and solutions to reach these goals
Why should I participate?
Over the past couple decades, the Richmond District has seen a relatively slow growth, with limited investment in transit, affordable housing, and pedestrian safety. However, in recent years it has been experiencing changes similar to many other neighborhoods in the City and the region due to the Bay Area's changing economy. In the past five years, housing costs have increased significantly. The Richmond now has one of the highest rates of evictions amongst San Francisco neighborhoods; lower income households are leaving; and there is still a wide racial disparity in income earned per person.
The Richmond District Strategy aims to direct this change to benefit the community as the neighborhood evolves. Whether you are a current resident or business owner in the Richmond, or you're considering living or working in the neighborhood, your participation in this effort would help shape the community goals, and the policies to reach those goals. As a tenant, senior, immigrant, person of color, or member of a lower income household or family with children, we especially encourage you to participate to tell us your needs and vision for the future.
How can I participate?
We continue to reach out to the community through series of meetings. We also welcome the opportunity to attend your neighborhood group meetings and events. Please contact us if you'd like us to come to a meeting at your neighborhood group, community organization, parent teacher association, or gathering.
You can use this online form to provide comments, concerns, and ideas, or you can simply email or write to us directly.
Frequently Asked question and comments about the Survey
I didn't know about the Survey! How can my voice be heard?
Surveys are used to gain an understanding of a topic, relying on a sample of the population. During the four months our survey was open, we conducted extensive outreach to get a larger sample, but we couldn't talk to every resident. At the same time, the survey is just one tool in our outreach toolbox. We continue to speak to the community for their involvement through a series of meetings and online outreach. Please help us get the word out!
Was the Survey representative?
While certain subgroups were not as well represented in our sample when compared to their share of the district's population according to census data, the sample size for each subgroup was large enough to allow us to generalize our findings to a statistically significant confidence level (90 percent confidence level and 6 percent margin of error). You can find more details for each subgroup here.
Reports and Materials
Existing Conditions Report: this report collected data from numerous sources to discuss the District's current trends and conditions through eight key topic areas: People, Zoning and Land Use, Residential Character, Commerce and Industry, Development Trends, Connectivity, Public Realm, and Community Facilities.
Community Needs Assessment Survey: the Survey asked people to respond to questions about their needs and opinions on the following topics: housing, development, transportation and streetscape, local commercial areas, parks and open spaces, and community facilities. The results are provided in a full report as well as a four page summary.
Outreach Materials: This document describes highlights from the Existing Conditions Report and findings from the Community Needs Assessment Survey Results. This document is also available in Chinese | 中文.
Feedback and Goals
Since we published the survey results in June, we received feedback on our findings at various outreach events. Below are all of the comments we have heard so far and a draft of community goals developed at our last meeting.
Upcoming Events
Follow Up Conversation: Establishing Community Goals for the Richmond - Sunday, February 26th from 3pm to 4:30pm (see top of page).
Past Community Outreach Events
Outreach details for the Community Needs Assessment Survey is provided here.
Contact
To submit comments or questions, please contact:
Kimia Haddadan
Project Manager
SF Planning Department
Direct: 415-575-9068
kimia.haddadan@sfgov.org
Victoria Chong (我會講中文)
SF Planning Department
Direct: 415-575-9134
victoria.chong@sfgov.org
Fax: 415-558-6409