Ocean Beach Adaptation Efforts

This webpage provides a portal to information about Ocean Beach, bringing together plans, projects, and studies from several city, state, and federal agencies. These agencies -- the "Ocean Beach Adaptation Team" -- are coordinating closely on a variety of projects in the area and on communication with affected communities. The agencies include:
San Francisco Planning 
The San Francisco Public Utilities Commission
The San Francisco Department of Recreation and Parks
San Francisco Public Works
The National Park Service
The Office of Supervisor Katy Tang
Adapting to Erosion & Sea Level Rise

A Changing Climate, A Changing Coast
At Ocean Beach, storm-driven waves are contributing to erosion of coastal bluffs. As climate change causes sea levels to rise, erosion is expected to worsen, further threatening coastal infrastructure like roads and sewers, and causing the beach to narrow. City, State, and Federal agencies are working together with beach users and community members to adapt to these changes, protecting critical infrastructure while supporting open space, recreation, and natural habitat.
Ocean Beach Master Plan
The Ocean Beach Master Plan, completed in 2012, lays out a vision for adapting to a changing coastline at Ocean Beach. It is the result of a two-year process that brought together community members and numerous public agencies to consider the area's future as erosion continues. Its recommendations include narrowing and eventual closure of the Great Highway south of Sloat, and coastal protections integrated with beach restoration and coastal open space.
Local Coastal Program
The Local Coastal Program (LCP) is a policy and regulatory document required by the
California Coastal Act
that establishes policies on land use, development, natural resource protection, coastal access, and public recreation for San Francisco's Coastal Zone. The San Francisco Planning Department is amending theCity's 30-year old LCP to address sea level rise and coastal hazards using the best available science.
The LCP amendment strives toward long-term resiliency by balancing environmental resources, maintaining coastal access, addressing community needs, and protecting our investment in public infrastructure, such as roads and wastewater treatment facilities. The amendment process, which began in 2015, will include review approval by the Planning Commission, Board of Supervisors, and Coastal Commission.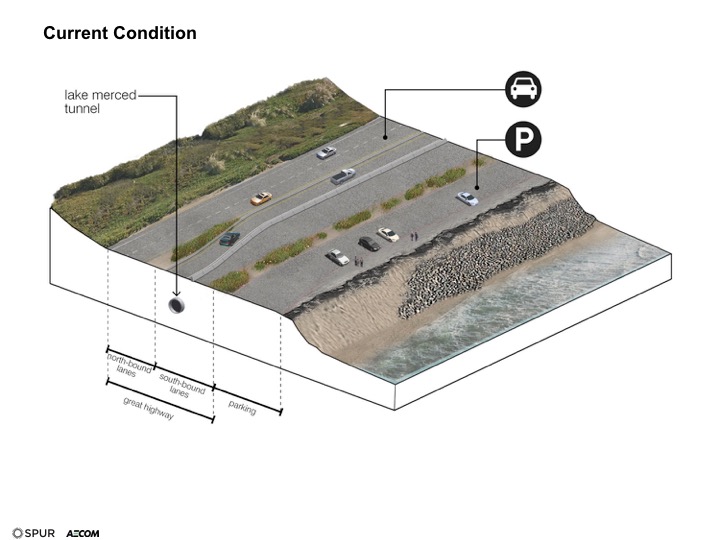 Planning for Coastal Protection
Once the critical infrastructure is safe from coastal hazards, the two existing boulder revetments (which provide protection but degrade beach conditions) can be removed, along with exposed rubble and fill. Large quantities of sand can be placed for supplemental protection and to improve access and ecological function, and dunes can be vegetated with native plants. Sand will come and go with the seasons and storms, but South Ocean Beach will offer a more resilient, attractive, and ecologically rich coastline for decades to come.
Read the SFPUC's Alternatives Analysis Report
Image of Phase 1 of South Ocean Beach Shoreline
Image of Phase 2 of South Ocean Beach Shoreline
Protecting Coastal Waters
The Wastewater System
The Oceanside Treatment Plant and related facilities - completed in the early 1990s - were built to protect coastal water quality and bring San Francisco in compliance with the Clean Water Act. This combined sewer and stormwater system has reduced the number of discharges into coastal waters by 90% and is a model of environmental performance.
View an animation video of the Westside wastewater system
Learn more about the Oceanside Treatment Plan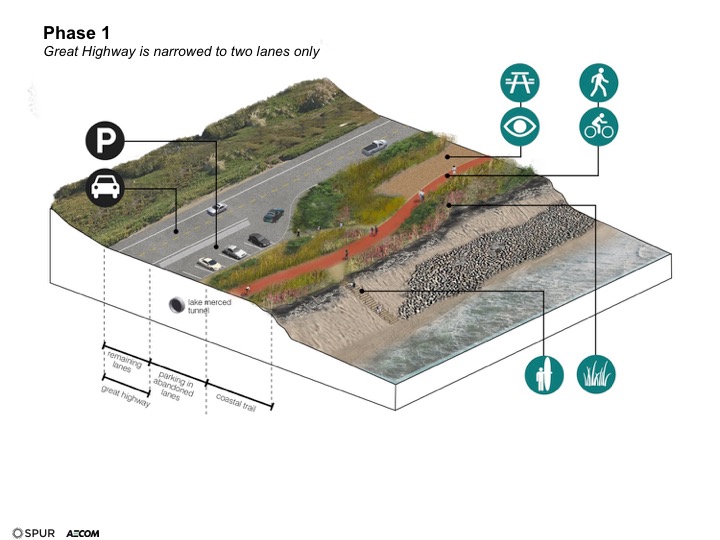 Coastal Hazards & Public Infrastructure
To move sewage and stormwater to the Oceanside Treatment Plant, this system requires large underground storage and transport facilities to be located close to the shoreline.
At South Ocean Beach, shoreline erosion is threatening the most seaward component of the system — the Lake Merced Tunnel, a fourteen-foot diameter pipe under the Great Highway. Other components are located just behind the tunnel.
Proposals like those in the Ocean Beach Master Plan are under consideration to address these hazards while protecting water quality, coastal access and ecological conditions.
Read the SFPUC's Coastal Management Strategy Report
Image of Current Phase of South Ocean Beach Shoreline
Image of Phase 2 of South Ocean Beach Shoreline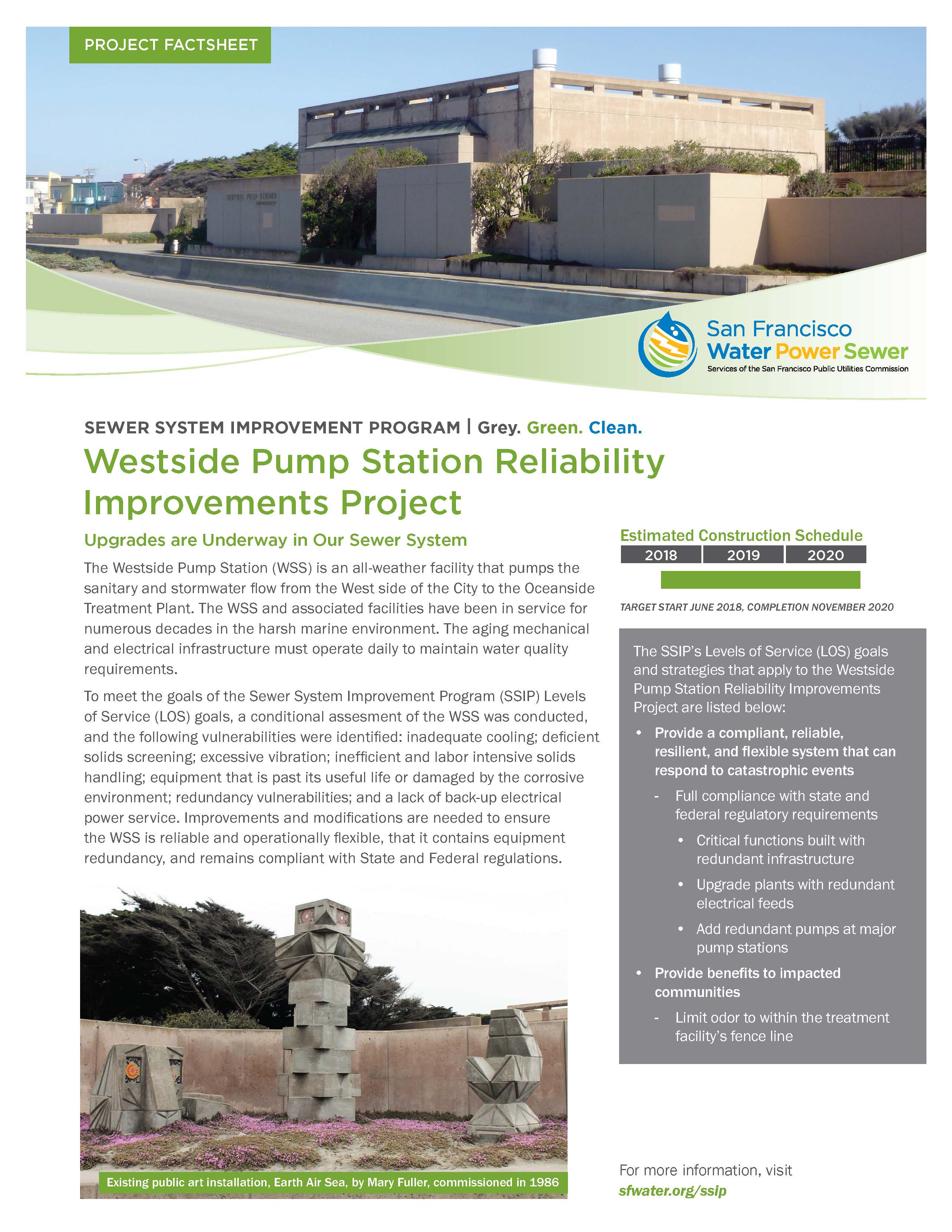 Sewer System Improvement Projects
The Sewer System Improvement Program is a 20-year citywide investment to upgrade aging sewer infrastructure to ensure a reliable, sustainable and seismically safe sewer system now and for generations to come.
As part of the SSIP, the SFPUC will be making improvements to the Westside Pump Station, an all-weather facility that pumps the sanitary and stormwater flow from the west side of the city to the Oceanside Treatment Plant. The Westside Pump Station and associated facilities have been in service for numerous decades in the harsh marine environment and the aging mechanical and electrical infrastructure are in need of repair to meet strict water quality requirements.
Learn more about the improvements to the Westside Pump Station
A Combined System
San Francisco has a combined sewer and stormwater system, meaning that stormwater runoff is processed through the same system as wastewater from sinks and toilets. On San Francisco's West Side, gravity brings combined flows to the pump station, where it is pumped to the Oceanside Treatment Plant. This ensures that runoff from roofs and streets - a major source of pollution - is treated to a high standard. But this also requires large underground storage and transport structures to minimize discharges into coastal waters during heavy rains.
View an animation video of the Westside wastewater system
Learn more about the combined sewer system
Coming Soon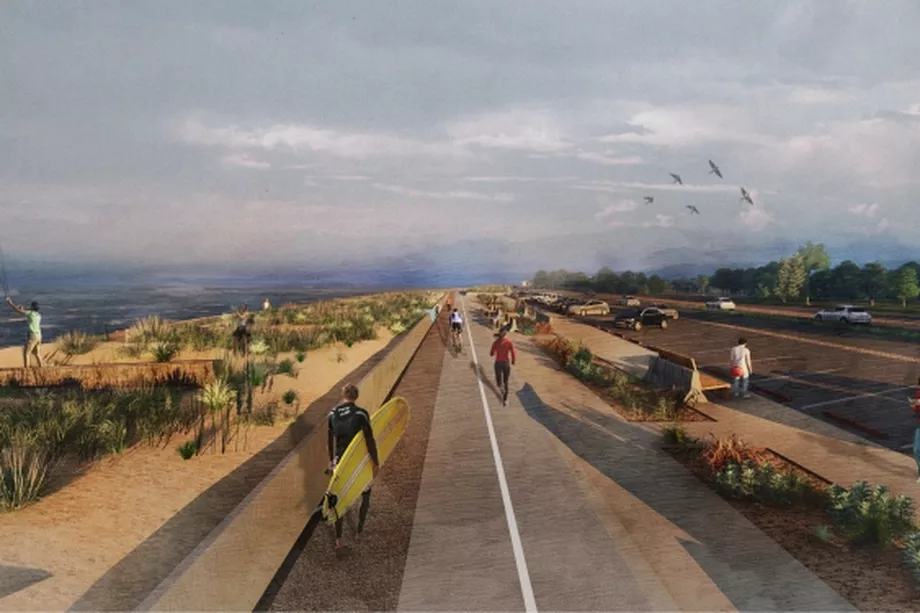 A Safer Great Highway & Coastal Trail
Erosion of coastal bluffs is a chronic hazard at South Ocean Beach, and will worsen with sea level rise. Armoring the coast in its current location with seawalls or boulders is likely to result in beach loss. While some carefully-designed armoring may be needed to protect critical sewer infrastructure, realigning some functions away from coastal hazards with be required in the years ahead.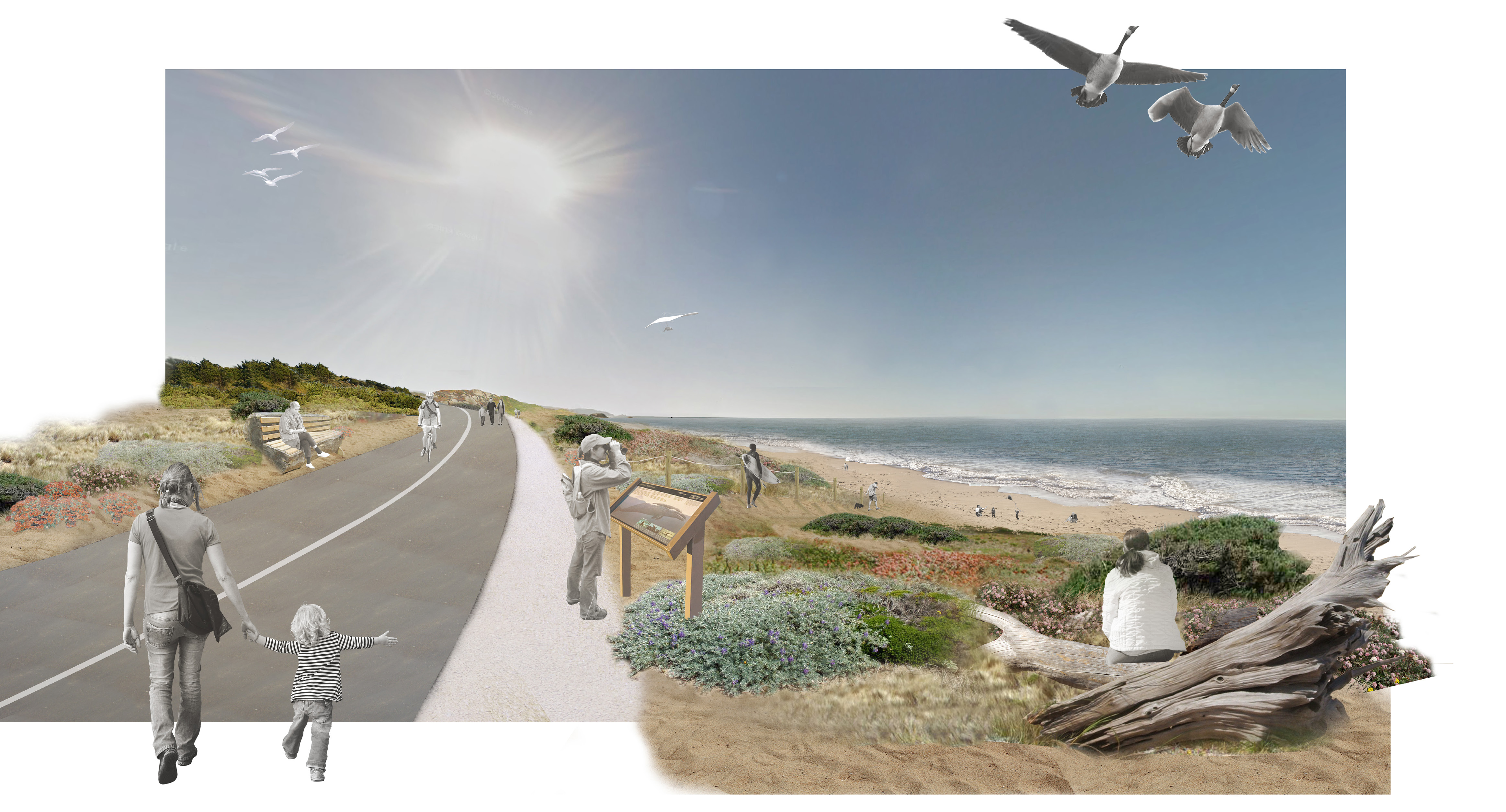 Managed Retreat from Coastal Hazards
In 2018, the Great Highway South of Sloat Boulevard will be narrowed to one lane in each direction. This project will move vehicular traffic to a safer alignment, away from eroding bluffs. In 2010, coastal erosion caused the southbound lanes to be closed for nearly a year. More recently, coastal storms resulted in the closure of some parking areas.
Long term, all north-south traffic will likely be re-routed behind the Zoo via improved Sloat and Skyline Boulevards. Moving vehicle traffic inland will create more reliable circulation and allow for improved coastal recreation and open space.
Coastal Access
A new bicycle and pedestrian trail will provide safe access to Ocean Beach, nearby open spaces, and beach parking, while closing a gap in the California Coastal Trail. It will be installed after the Great Highway is narrowed, in the space currently occupied by southbound lanes. Funded by a Federal grant and local transportation sales tax funds, the project will also provide new coastal access parking in a safe location away from eroding bluffs.
Learn more about SF Recreation & Parks' pedestrian/bike trail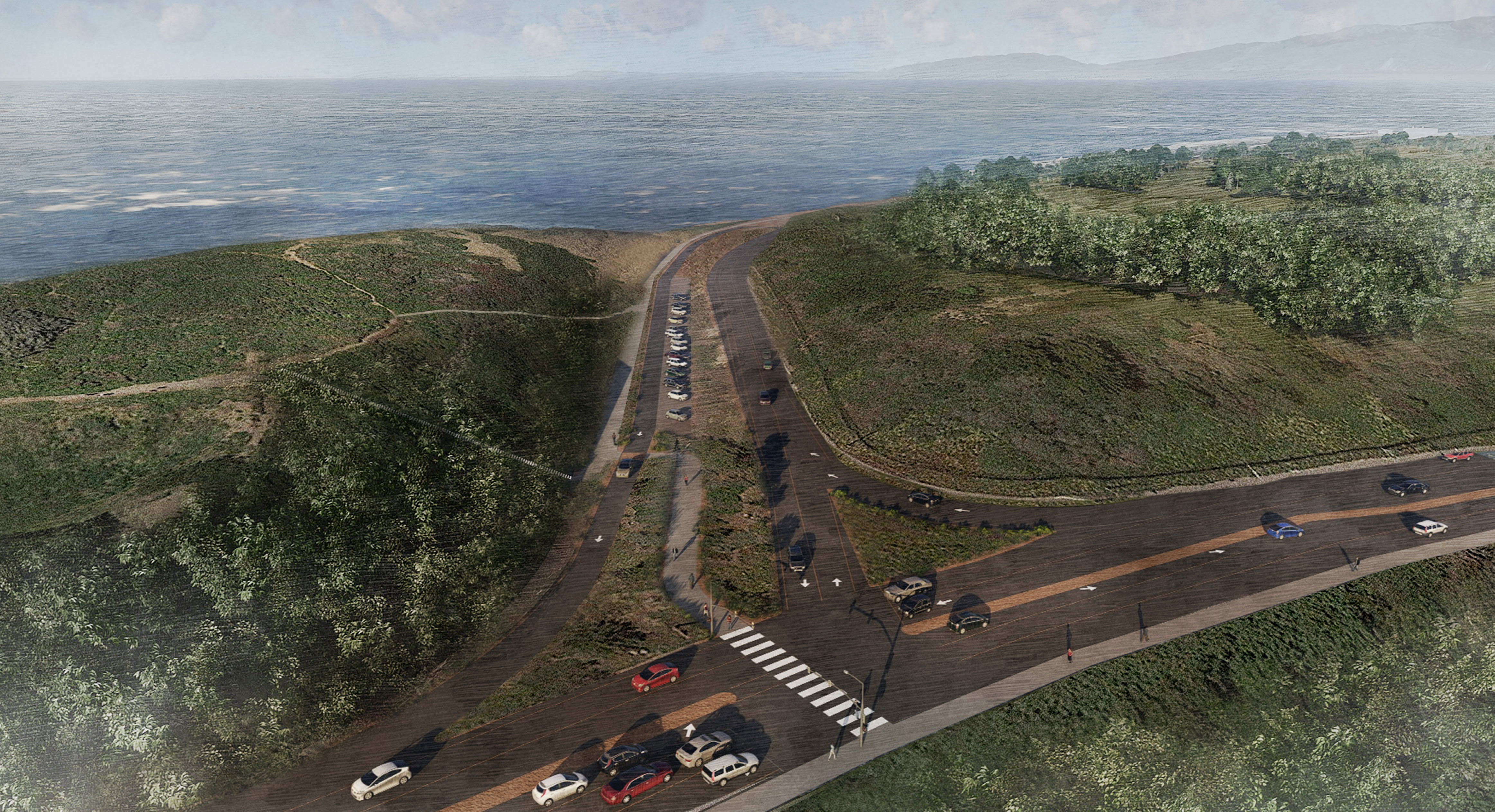 New Connections
The new bicycle and pedestrian trail will be supported by other improvements, including a trail connection to Fort Funston, and a safe crossing of Skyline Boulevard to the Lake Merced trail. Completing these projects will for the first time allow safe, continuous bicycle and pedestrian connections from Land's End, Golden Gate Park, Ocean Beach, the San Francisco Zoo, Fort Funston, and Lake Merced - integrating many of San Francisco's most important open spaces.