Health Care Services Master Plan Update 2017

The San Francisco Department of Public Health (SFDPH) and the San Francisco Planning Department are currently developing an updated HCSMP, for anticipated adoption in late 2017. The purpose of the 2017 HCSMP is to identify current and projected needs for healthcare services in San Francisco, with a focus on vulnerable populations. The main goals of the 2017 HCSMP include:
Provide the most current and available local and state data describing health care services, capacity, utilization, and distribution of health care services
Highlight health disparities and critical healthcare and development issues that have emerged since 2013
Conduct an updated assessment of land use controls and trends in medical use development
Update the HCSMP Consistency Determination guidelines
Develop supporting legislation and longer-term policy recommendations to improve access to care
Key Documents & Presentations
Overview Handout (12/7/2017)
Overview Presentation (coming soon)
Frequently Asked Questions (FAQs) (coming soon)
Proposed Recommendations & Guidelines (coming soon)
Supporting Policy Recommendations & Land Use Process Improvements (coming soon)
Outreach & Adoption
In order to support development of the 2017 HCSMP, outreach activities will include:
Conducting interviews with key stakeholders in the health care and social services, real estate development, and neighborhood planning fields in order to hear their perspectives on San Francisco's current and future health care needs and trends in medical facility development
Providing briefings to advocacy organizations and stakeholders
A public workshop
An online survey
Public hearings at the Planning Commission, Health Commission, and the Board of Supervisors
Materials and information from these events will be updated below. To receive updates on upcoming events and hearings, subscribe for email updates using the link above.
2017 HCSMP Update: Meetings & Hearings
When items are completed, information will be posted here.
Informational Hearing at the Planning Commission – 12/7/2017
Timeline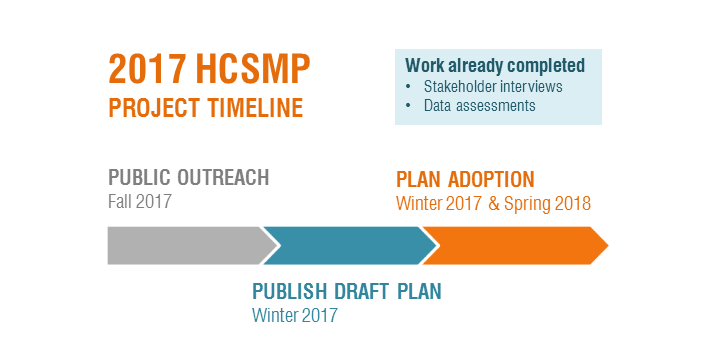 For additional information on the Planning Department's work on HCSMP, please contact: