EveryTreeSF – Street Tree Census
UPDATE (February 2017)
EveryTreeSF - the City's first-ever Tree Census was completed in January - check out the numbers below!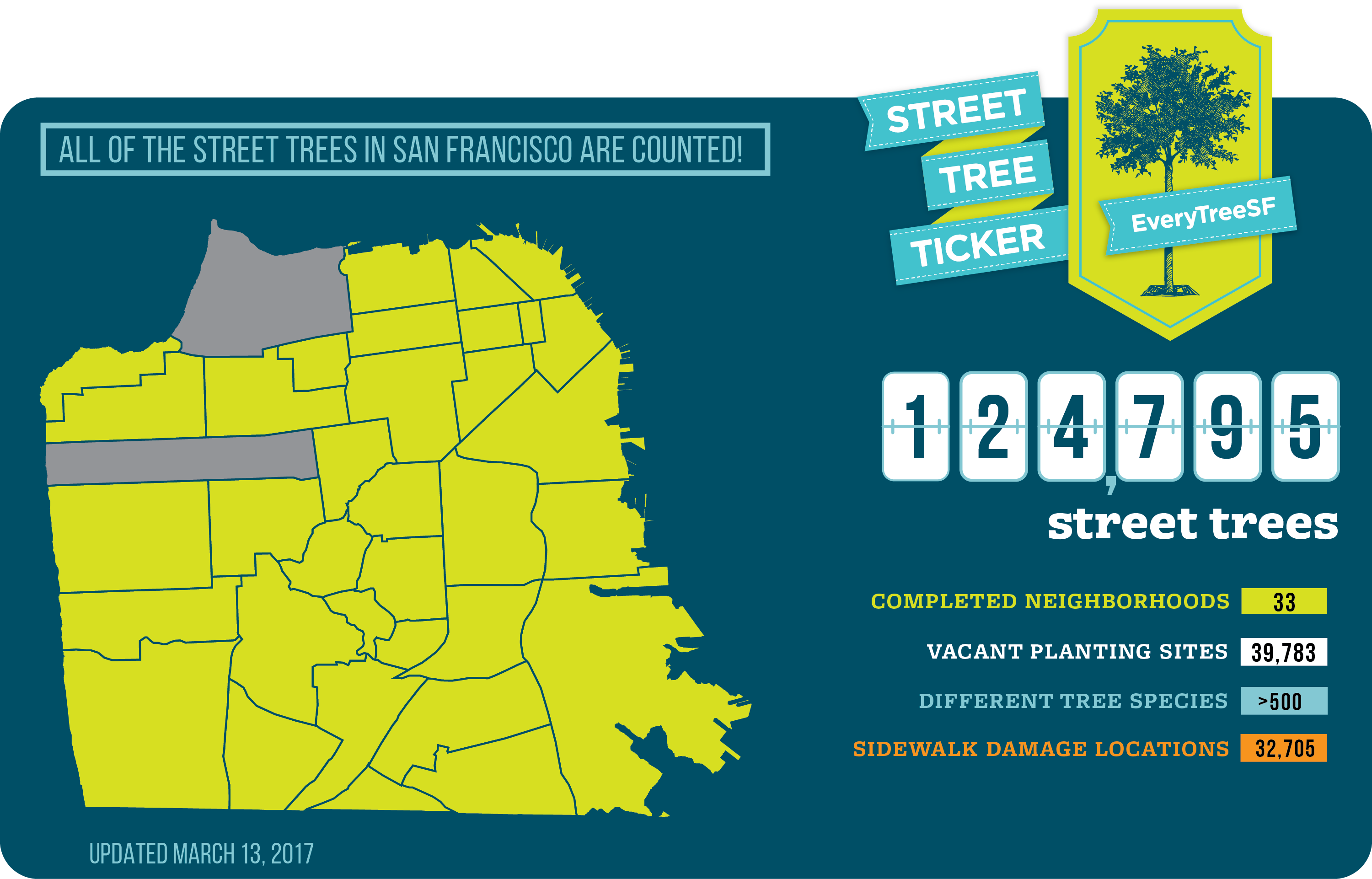 Do you know how many street trees there are in San Francisco?
Trees play a vital role in San Francisco. Trees not only beautify and green our City, they also store carbon, filter pollution from air and water, provide wildlife habitats and help enhance the quality of our daily lives. They are a valued community resource, an important component of the urban infrastructure, and a part of our identity.
However, the City lacks comprehensive data on the trees on San Francisco's streets. Without knowing more about their conditions and how many exist, the City cannot develop a long-term plan for maintaining and growing its urban forest. This is why the City is launching its first-ever citywide street tree census, EveryTreeSF.
Kicking off in January 2016, our team of tree specialists continues on the path of identifying the exact location, species and current condition of every street tree in the City. In addition to identifying existing trees, we will be surveying vacant sites to help determine locations for new trees to be planted. Once EveryTreeSF is completed, the data generated will help San Francisco make more informed species selections and identify priority maintenance needs and future planting sites.
Background

In 2012, a partial Street Tree Census was conducted in the Bayview, North Beach, Outer Sunset and Western Addition neighborhoods, accounting for roughly 25 percent of the street tree population. The information collected on species and population composition, stocking levels and the value of environmental and economic benefits of street trees helped inform the Urban Forest Plan (Phase I, Street Trees), adopted by the San Francisco Planning Commission in 2014.
The Urban Forest Plan provides a phased approach to planning for trees and vegetation in the City's landscape and a strategy to create a more sustainable urban forest and a truly green city. Phase I discusses the overall urban forest with a primary focus on street trees. The Plan highlights the benefits of trees and landscaping, and makes recommendations designed for timely implementation by policymakers and City departments for a comprehensive approach to street tree management in San Francisco.
A citywide census of every street tree in San Francisco is one of the key strategies identified in the Plan. A comprehensive street tree inventory will ensure accurate data to help achieve an effective method of maintaining and growing San Francisco's urban forest.
EveryTreeSF is sponsored by the City & County of San Francisco and led by San Francisco Planning and San Francisco Public Works, in partnership with ArborPro and Friends of the Urban Forest. EveryTreeSF was completed in January 2017.
Get Involved
Sign-up to receive email updates for new information and future community meetings to discuss census findings about the street trees in your neighborhood.
Join us for a virtual tree tour of the City by following @EveryTreeSF on Instagram (account required). We'll be posting some of our best treefies in your neighborhood with fun facts about the City's trees. Post photos of your favorite street trees and tag us! 
Learn more about tree census programs in Seattle and New York.
FAQs
What about parks or the trees in my backyard? Are they included in the survey?
EveryTreeSF is focused on conducting a census of all San Francisco's street trees, so trees on private property or on public parks will not be included. However, we are working to secure additional funding to conduct future inventories of trees at schools and in the City's open spaces. Residents can catalog trees on their private property here.
Who is actually counting all the trees? 
The City has enlisted the help of a professional tree care company, ArborPro, to conduct the street tree census. Their teams of certified arborists have performed tree inventories throughout California and around the country. ArborPro staff is also skilled in tree species identification and assessing maintenance needs.
Will the data being collected be made available to the public?
Yes! EveryTreeSF will make the final data available to the widest possible audience possible once it's complete. We will launch an online SF Urban Forest Map and a mobile app making the data easily available to everyone. In addition, we'll share the data at public meetings and with neighborhood and community organizations as it's collected through a series of Neighborhood Street Tree Summaries.
Contact
For additional information on the EveryTreeSF, please contact:
Jon Swae
Plan Manager
Planning Department
(415) 575-9069
jon.swae@sfgov.org