Balboa Area Transportation Demand Management Framework

Final Draft of the Balboa Park TDM Framework is Now
Available
The final draft of the Balboa Park TDM is complete. Updates to the document will be summarized at the Balboa Park Station CAC meeting on September 26, 2017. Details can be found here.
Project Description
The Balboa Area Transportation Demand Management (TDM) Framework will recommend measures to better manage the current and future transportation needs of commuters, families, seniors, employees, visitors, and students of all ages, means, and schedules in the neighborhood.
Funded by the District 7 Neighborhood Transportation Improvement Program (NTIP) at the request of Supervisor Norman Yee's office, this Framework was proposed as a response to community feedback gathered by the Balboa Park Station and Balboa Reservoir Community Advisory Committees (CAC), as well as public workshops in the neighborhood. Read more about the NTIP process here.
The Balboa Area Transportation Demand Management (TDM) Framework provides specific recommendations to encourage sustainable travel choices, make efficient use of limited transportation infrastructure, and maximize access for Balboa Area residents, employees, visitors, and students.
The recommendations consist of physical and operational TDM measures for the City, City College of San Francisco (CCSF), and the future Balboa Reservoir site. The Framework recommends paths to implementing the TDM measures, as well as targets and monitoring programs to ensure goals are being met. Finally, it recommends further study of complementary capital improvements and infrastructure projects that enhance transit, bicycle and pedestrian safety and access.
Project Area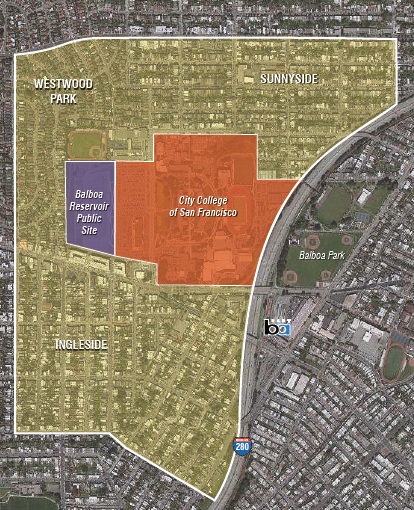 The project area includes the City College of San Francisco Ocean Campus, the Balboa Reservoir site, and parts of three adjacent neighborhoods of Sunnyside, Westwood Park and Ingleside.
Why do we need a TDM Framework?
A number of improvements in the Balboa Park Plan Area are steadily enhancing transit access, SFMTA operations, BART access and pedestrian safety around Balboa Park station. In addition, planned streetscape improvements will make Ocean Avenue more pedestrian friendly and visually appealing. Yet, as the neighborhood grows, City College enrollment increases, and travel patterns change, there remains a need to better manage the transportation demand for City College and surrounding neighborhoods due to limited roadway, transit infrastructure, and financial resources.
The Balboa Area TDM Framework is the first effort to understand and coordinate travel choices unique to the Balboa Area, given the growing number of student and employees commuting to the neighborhood. As such, it evaluates sustainable travel choices and roadway space on behalf of all users in the neighborhood — various forms of transit, parking, safe and convenient walking, and biking and transit facilities.
Resources and Links
Balboa Area TDM Presentations and Materials
TDM Examples
Related Projects and Pages
Contact
Jeremy Shaw
Project Manager and Planner
SF Planning Department
(415) 575-9135
jeremy.shaw@sfgov.org
Peter Costa
Nelson\Nygaard Consulting Associates
pcosta@nelsonnygaard.com