Accessory Dwelling Units
Curious about the benefits of adding an ADU to your property?
Click on the video below!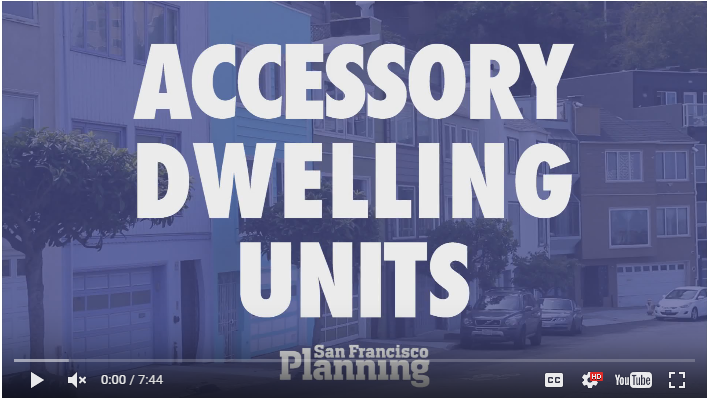 An  Accessory Dwelling Unit (ADU) is a new dwelling unit added entirely within an existing building or an existing built envelope, the "living area" as
defined in State law, or the buildable area of an existing building in areas that allow residential use or within the existing built envelope or buildable envelope of an existing and authorized auxiliary structure on the same lot in areas where residential use is allowed. Some minor additions are permitted.
As of September 4, 2016, the City of San Francisco's Accessory Dwelling Unit program is available for use Citywide. This program reduces some Planning Code requirements to make it possible for property owners to add these new units to their buildings.
Effective June 11, 2017, amendments were made to the Planning Code to bring the requirements and procedures for authorizing the construction of Accessory Dwelling Units (ADUs) in single-family homes into conformity with the new mandates of State law.
Resources
Video:
Fact Sheets:
Other Resources:
ADU Handbook:** The San Francisco Planning Department and OpenScope Studio have developed a handbook to serve as a guide for homeowners and contractors when adding a unit to an existing residential building. It helps define the various physical forms for ADUs; multiple City Codes which regulate adding ADUs; and when such investment is financially feasible or beneficial to small property owners.
** please note: the ADU handbook does not reflect the recent changes in the ADU program since 2015. The Department is in the process of updating the Handbook.
Look up your zoning information on the Property Information Map.
An ADU financial calculator is available to estimate how many years it will take for an owner to break even on the costs of adding an ADU. Download the calculator here. - MS Excel | This calculator is originally from www.accessorydwelling.org a one-stop website about accessory dwelling units
Draft Regulatory Agreement: If the existing building is rent controlled, and Planning Code waivers are granted, the new unit will also be rent controlled. A regulatory agreement will be created adding the new ADU under rent control. Please see a sample of the agreement here. The Regulatory agreement will be edited by Planning staff to reflect project specific conditions.
New Accessory Dwelling Units (ADU) and Legalization of Unauthorized Dwelling Units (UDU) Permit Intake Checklist - 12/07/16


Note:

these permits are not over-the-counter and will be routed to the Flex Team within the Planning Department.
Legislative Documents
If you're looking to legalize an existing unauthorized unit, please check out our legalization program. More information is available on the Department of Building Inspection webpage here: http://sfdbi.org/UnitLegalization
Event Coordinator
If you would like staff to attend an upcoming neighborhood or organization meeting, please contact Kimia Haddadan, kimia.haddadan@sfgov.org at San Francisco Planning.
Past Events
Accessory Dwelling Units Brown Bag – hosted by SF Department of Building Inspections and Planning Department
November 12, 2015, 12:30-1:30 PM
Legalizing In-law Apartments and Creating New Apartments in Existing Buildings
Thursday, October 1, 2015 from 6:00 PM to 8:00 PM
sf-ADU Handbook - hosted by San Francisco Apartments Association
September 24, 2015 - 6:00 PM to 9:00 PM